*The Modular Malling -Deluxe -6ft heavy Duty Double Hutch
Malling -Deluxe -6ft Modular heavy Duty Double Hutch
Reference: modular
The Modular Malling -Deluxe -6ft heavy Duty Double Hutch
Delivery to Zone 1 & 2 only or collection..
£10 delivery cost. Please do not add anything else to this order.
If would like other item please place a second order.
Read Full Product Description Below
Delivery rates and Info. Shipping estimator at basket.
Made in the UK.
The New modular Malling- Deluxe 6ft heavy duty Double Rabbit Hutch  Rrp £300
This has an extra thick- 9mm floor instead of the normal 4mm.
It also has a 4mm Ply roof lining under the felt
Screwed together -not just stapled.
16 gauge heavy duty wire instead of the normal 19 gauge
It also comes with the option of either a nestbox/resting shelf area-(Bunnies love snoozing on top of this or snuggling up inside on a chilly night.)  -exclusive to Dee Millen Rabbit accessories or a bedroom partion.
Extra locks  fitted as standard and heavy duty bolts.
Hutch hugger and Hutch Snuggler available- see drop down list.
This Deluxe modular hutch is only available from Dee Millen Rabbit Accessories.
DO NOT GET THIS HUTCH CONFUSED WITH CHEAP COPIES-THIS HUTCH WILL LAST *

External Dimensions
    Height: 1300 mm x Depth: 650 mm x Width: 1760
    Foot Print: 1755mm x 600mm
    Width (w/hutch roof overhang): 1800mm x 655mm
    Step up from ground to the first floor: 140mm
    Hutch Legs: 100mm

Internal Dimensions
    Upper-level Internal Height 505mm
    Lower level Internal Height 525mm

Overall combined living area space is a whopping-3456-including ramp area
The RSPCA and RWA recommend a living area of-2'592
Construction
Robust 10mm tongue & groove European redwood timber construction
Heavy Duty 9mm floors, Top & Bottom.
Green mineral felt roof- 4mm ply under felt.
16 gauge Prime weld grade wire mesh-Fox proof
Durable heavy duty bolt door fastening
Screw together as well as high pressured stapled.
Manufactured in the UK -
The Deluxe Malling  6ft hutch is made Just for us.
 This hutch is thoroughly checked before being sent- making sure it arrives to you with pre-drilled pilot holes, panels screwed together not just stapled and the correct amount of screws for you to build it.
Features
Two storey dwelling providing additional living & recreational space
Timber ramp provided with side safety rail
Fixed central wire panel for water bottle to prevent dripping
Partition or nest box area- with resting area above as shown in the product photo's photo.
Large bedding stop (kick board) to front upstairs level ( stop the rabbits bedding falling from the cage every time the door is opened) with removable panel for easy cleaning
Integral designed legs ensure the hutch is lifted off the ground to prevent rising damp and allow air circulation to the inside of the hutch
Treated with animal safe water based preservative
Extra thick floors for long life.
Easy to follow  assembly instructions
    Supplied in three boxes.

EXTRAS FOR THE Malling DOUBLE HUTCH

Hutch Hugger available for this hutch
Hutch Snuggler available  for this hutch. You can also add the covers for no extra delivery charge- Please choose in the drop down list.
Malling  run can be used in conjunction with this hutch to provide additional run area. Either a front run or  a side run.

The delivery cost on this hutch is £10, you can add the covers using the drop down list for no extra delivery charge.
Delivery to Zone 1 & 2 only or collection..
If  you are wanting other items with your hutch- please do these on a second order, or you will be over the £10 weight limit and the website will charge the default delivery.

Recommendations

Position in a sheltered position out of direct sunlight.
To prolong the life of the hutch clean regularly and treat between seasons
     
* If looked after and treated regularly
Your comment is submitted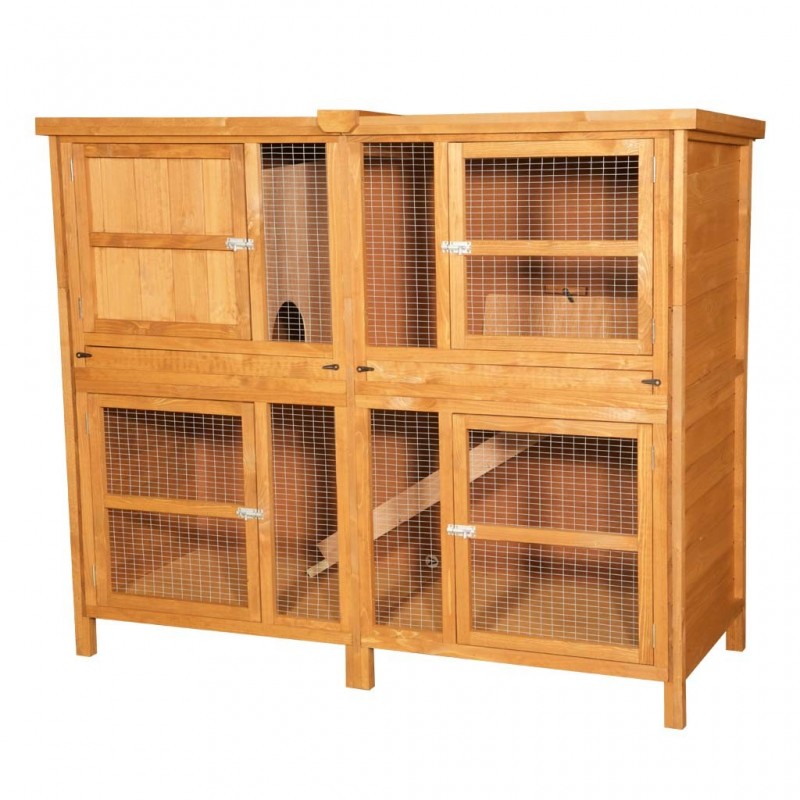 4 other products in the same category:
Product added to compare.