The Malling Extended super Single- Deluxe heavy duty Hutch/run
11ft Super Extended Malling Single
Reference: extended
The Malling 11ft super Extended Single- Deluxe heavy duty Hutch/run
    5ft deluxe extended Malling Modular Hutch  & 6ft  side run.
Delivery to Zone 1 & 2 only or collection..
£10 delivery cost. Please do not add anything else to this order.
If would like other item please place a second order.
Read Full Product Description Below
Delivery rates and Info. Shipping estimator at basket.
The Malling Extended super Single- Deluxe heavy duty Hutch and run.
A 5ft   - this will be the new modular hutch with 6ft side run. new design on run-comes in 2x3ft panels- so run length can be either 3ft -whilst training bunnies and then 6ft once trained.

The hutch has an extra thick-9mm floor instead of the normal 4mm.
It also has a 4mm Ply roof lining under the felt

Very heavy gauge wire, metal turn buttons not plastic, extra locks fitted and heavy duty bolts.
Purpose built bedding/nest area
This hutch is screwed together not just stapled for extra strength

This Deluxe hutch and run is only available from Dee Millen Rabbit Accessories.
DO NOT GET THIS HUTCH CONFUSED WITH CHEAP COPIES-THIS HUTCH WILL LAST FOR YEARS.*
 
External Measurements
Width: 1540mm

Depth: 650mm

Height: 720mm

Exterior Legs: 100mm
Step up from ground to the first floor: 220mm
Internal Measurements
Hutch Foot Print: 1420mm x 560mm
Sleeping Area: 480mm x 560mm
Front Interior Height: 570mm
Rear Interior Height: 530mm
Construction
    Robust tongue & groove European redwood timber construction.
    Green mineral felt roof in one piece on 6ft, two piece with over bar on 5ft.
    Prime weld grade wire mesh, 16g fox proof on 5ft Malling hutch and 9g on 6ft Malling hutch
    Heavy duty bolt door fastening

Manufactured in the UK

Features
Spacious dimensions
Option of Purpose built bedding/nest area.- allows the bunny to sit on top which they love or a standard bedroom partion.
Integral designed legs ensures the hutch is lifted off the ground to prevent rising damp and allow adequate air circulation to the inside of the hutch
Side door giving access to 6ft side run-with turn button lock.
Treated with animal safe water based preservative
 Easy to follow  assembly instructions
Supplied in a three boxes
You can add  a hutch hugger or hutch snuggler- with no extra delivery cost- please use the drop down list

Recommendations
    Position in a sheltered position out of direct sunlight
    To prolong the life of the hutch clean regularly and treat between season
The delivery cost on this hutch is £10, you can add the covers using the drop down list for no extra delivery charge.
Delivery to Zone 1 & 2 only or collection..
If  you are wanting other items with your hutch- please do these on a second order, or you will be over the £10 weight limit and the website will charge the default delivery.
* If looked after and treated regularly


 

 
Your comment is submitted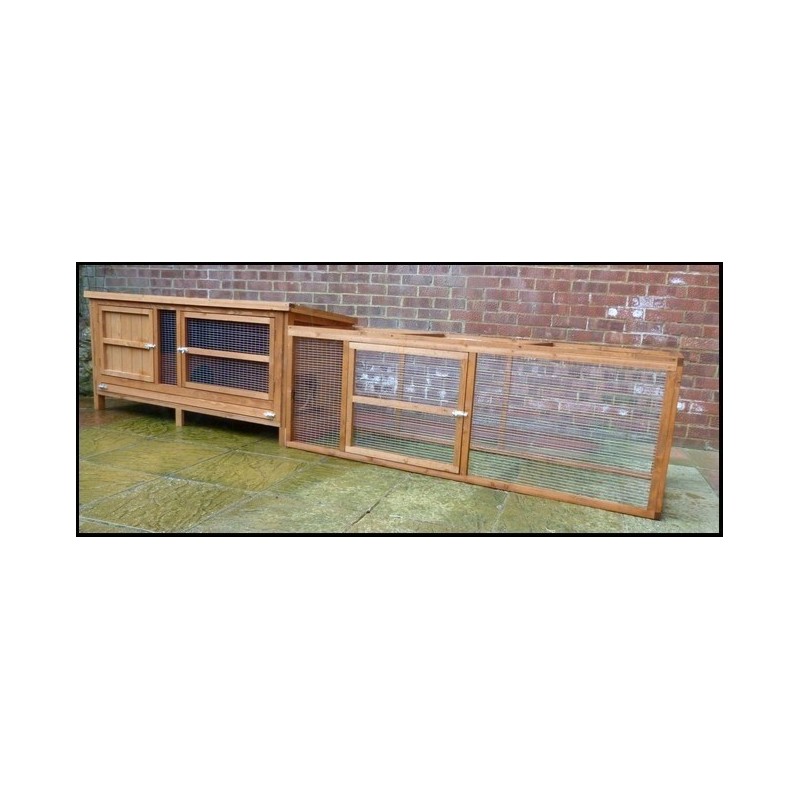 6 other products in the same category:
Product added to compare.